Click menu button above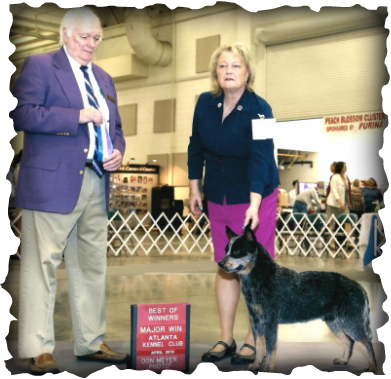 Hiredhand Kennel
Connie Hayes
130 Hosannah Road
Locust Grove, GA 30248
770 2287904 Home
770 5986005 Cell
---
Welome to my web site. I hope you enjoy and learn about the wonderful Australian Cattle Dog. I would love to talk with you about my dogs.
​You can buy a puppy with confidence from a trusted breeder of Australian Cattle Dog puppies for over 30 years. I breed very intelligent beautiful Australian Cattle Dogs. My puppies are loved and handled from birth and receive the best of care as do my adult dogs.
I am a member and Code of Ethics breeder with the Australian Cattle Dog Club of America for 30 years.
I am a Breeder of Merit and Bred with Heart Breeder with the American Kennel Club. The name Hiredhand is a registered name with the American Kennel Club
I am a registered and inspected breeder with the State of Georgia License #3652687
I stand behind my puppies 100%
OFA/PRA/PLL
Breeder of over 50 AKC Champions

Puppies will be up to date on shots, worming and microchip. I register your puppy with AKC and register the microchip for you, included in the price of the puppy.
TESTING OF DOGS

​

OFA tested sires and dams. Go to the

OFA WEBSITE

and type in the dogs name for OFA/PRA/PLL test results.

For information on PRA/PLL, go to the

OPTIGEN WEBSITE.
​

All of my dogs are Optigen tested and have had their hips tested with the Orthopedic Foundation for Animals and have an OFA number.

My puppies sires or dams are Optigen PRA/PLL tested Clear "A" so no puppy I sell can have PRA/PLL.

If you would like to see the pedigree on one of my dogs go to
ACD PEDIGREES
and type in the dogs name.

​​ PLEASE LIKE US ON
FACEBOOK
​www.facebook.com/HiredhandAustralianCattleDogs
​
---
Champion Hiredhand Wild Bill
"THERE'S ONLY TWO BREEDS OF DOGS, THE AUSTRALIAN CATTLE DOG AND THOSE THAT WISH THEY WERE!"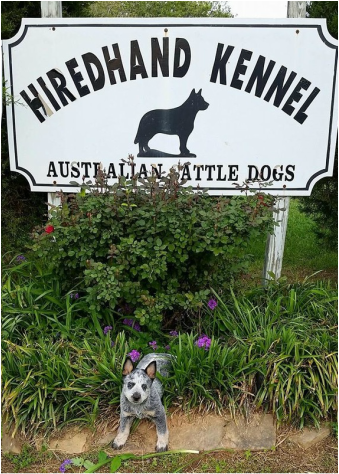 About Hiredhand Kennel
Hi. My name is Connie Hayes, owner of Hiredhand Kennel, established in 1985. Hiredhand Kennel is located on our 100 acre farm in Locust Grove, Georgia just south of Atlanta.
In the 80's I showed registered Paint Horses all over the United States. At a show in Oklahoma I noticed several people with these real neat little dogs following them around. I really liked the dog so I inquired about them and decided I would like to have one. I found a litter of puppies that were ready to go. I came home with my first blue heeler for 50.00 (bobtailed and no papers). He was a great dog and an aggressive worker. All the cattle farmers wanted him. So on my next trip out west I brought back two pups, but was talked into selling them. On a trip to Missouri I met Gary and Sissy Merrill. They had a litter of AKC registered puppies with them. I came home with my Katie, the most wonderful pup you could ever have. She was sired by Champion Cattlenips Heelfly Red. Everybody wanted Katie, but she was mine. So then they wanted me to breed her so they could get a puppy. When Katie was about two I decided I would raise a litter of puppies. Breeding champion Paint Horses for many years, I decided if I was going to breed her I would breed her to something nice, but finding it was a different story. I called the Merrill's in Missouri and they said they were cutting back on some of their show dogs. I bought Champion Cattlenip Silver Dude, Champion Bryn Mawrs Scarlet Fever, and a young pointed import female. In 1985 I established Hiredhand Kennel (you know they say "one good cattle dog is worth several hiredhands"). I really did not have much interest in showing the dogs. My main goal was to breed a good-looking strong dog with the aggression, grit, and intelligence to work cattle. I gave up the horse showing when my children were born and as they got older I began to think about showing the dogs. In October of 1995 I entered my first dog show with a 9 month old blue male pup. We took Best of Winners and I was hooked. I went on to finish my first champion, Hiredhand Rodeo Boss. I really do enjoy showing dogs and I do it for fun. All of my dogs are home bred, shown only by me and my daughter Michelle, and are mostly shown in the bred-by class. We show mostly at the southern USA shows now, but we venture out occasionally.
I hope when you decide and are sure that the Australian Cattle Dog is the breed for you, you will call me and let me tell you about my puppies. I stand behind my puppies 100% and will always be available for any help you may need with your dog.
Please do your research very well and make sure the Australian Cattle Dog is right for you.
Thank-you
Connie


---
Photos around the farm and kennel