HIREDHAND KENNEL

DOGS IN THE SPOTLIGHT

THESE DOGS BELONG TO MY CUSTOMERS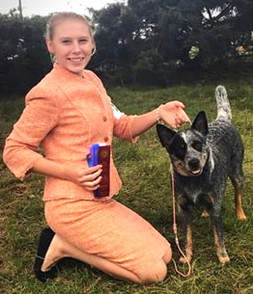 UKC CHAMPION HIREDHAND DELTA BLUE
OWNDED AND SHOWN BY JUNIOR HANDLER, LILLY

---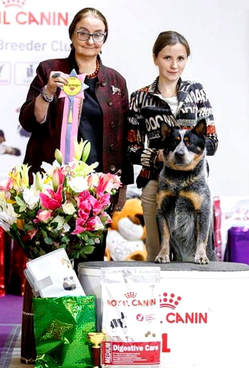 RUSSIAN CHAMPION HIREDHAND MR. TRUMP
OWNDED BY NATALIA FROM RUSSIA

---
CHAMPION HIREDHAND RED ANNIE
OWNED BY BRIAN KLARLUND FROM DEMARK​

---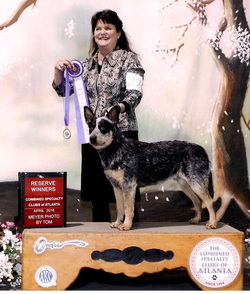 AKC CHAMPION HIREDHAND MASKED AVENGER AKA ZORRO
​INTERNATIONAL CHAMPION, UKC CHAMPION, CGC, RN, RA, RE, AO1 CD, TKN, BCAT, CAT, RO1
OWNED AND SHOWN BY PATTI KING
---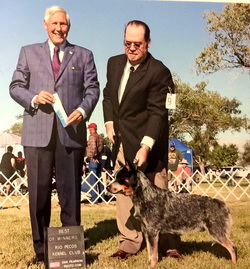 AKC CHAMPION HIREDHAND TOP PERFERENCE
​OFA-GOOD ELBOWS-NORMAL
OWNED AND SHOWN BY ROBERT HESSELGREN
---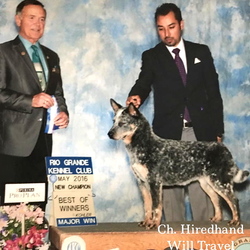 AKC GRAND CHAMPION HIREDHAND WILL TRAVEL
OWNED BY SUZANNE SANDERS
---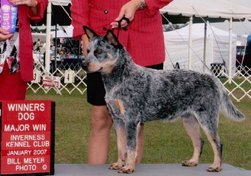 AKC CHAMPION HIREDHAND WALK THIS WAY
AKC CHAMPION. HER OWNER NEVER GAVE ME A PHOTO.
THIS IS HER SIRE CHAMPION TAILWYNDS SHOCK'N YALL
OFA/PRA/PLL
---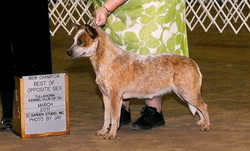 CHAMPION RANGES LITTLE MISS
AKC CHAMPION OFA-GOOD ELBOWS NORMAL PRA-B
---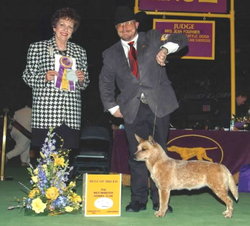 WESTMINSTER KENNEL CLUB BEST OF BREED WINNER
CHAMPION TIMBERS FIRE IN THE HAYSTACK​.

HAYSTACK IS BRED BY TIMBER KENNELS. HAYSTACKS SIRE IS CHAMPION "HIREDHAND TIMBER TAKEO" BRED BY HIREDHAND KENNEL. HAYSTACK IS THE NUMBER ONE ACD BITCH FOR 2004 HAYSTACK IS PROUDLY OWNED AND LOVED BY LUCINDA ZIMMERMAN
---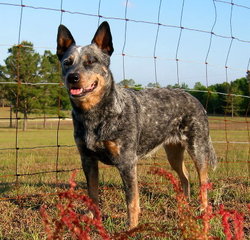 CHAMPION HIREDHAND FLASHBACK TO PLATEAU. HARLEY IS OWNED AND LOVED BY TINA PRIZ. HARLEY IS OWNER HANDLED.
HARLEY HAS ALSO EXCELLED IN AGILITY
---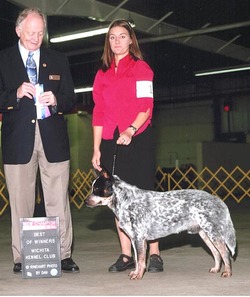 Michelle Haas and Champion Hiredhand MardiGras HS Congratulations to this young lady and her boy, Mardi. Michelle put every point on Mardi and finished his championship before he was two. Michelle and Mardi are now working hard on their herding titles. ​
---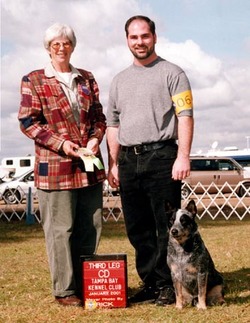 DON ST.CROIX AND "HIREDHAND ZENA" BIG CONGRATULATIONS TO DON AND ZENA ON THEIR CDX. DON AND ZENA ARE ALSO DOING VERY WELL IN AGILITY AND HERDING.
---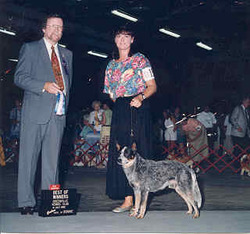 CHAMPION "HIREDHAND MAD MAX" CD
​
OWNED, HANDLED, AND LOVED BY LISA BOWMAN
---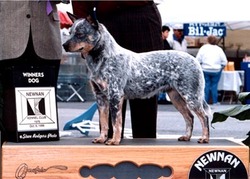 CHAMPION "HIREDHAND TIMBER TAKEO"
OWNED, HANDLED, AND LOVED BY LISA BOWMAN
​
---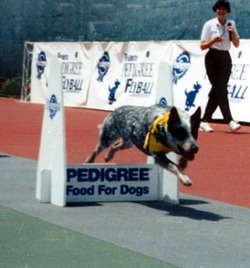 UCD "HIREDHAND BLUE LEVI" CDX OA CGC TTLEVI AND LYNN TRAVELED WITH THE PEDIGREE FLYBALL TEAM
LEVI WAS THE # 1 ACD IN OPEN OBEDIENCE FOR THE YEAR 1993
AT 91/2 YEARS OLD LEVI RECIEVED HIS FIRST LEG TOWARDS HIS AKC EXCELLENT AGILITY TITLE.
OWNED, HANDLED AND LOVED BY LYNN BOURN

---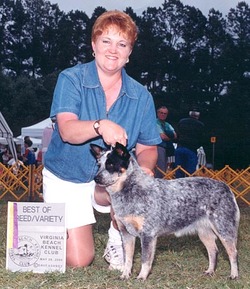 "CHAMPION HIREDHAND DREAMBOAT ANNIE" AND "HIREDHAND TIN LIZZY" KELLI COOK AND DAUGHTER EMILY ARE CAUSING QUITE A STIR ON THE EAST COAST WITH THEIR TWO "HIREDHAND" GIRLS. WATCH THIS MOTHER AND DAUGHTER TEAM AT THE UPCOMING SHOWS. LIZZY AND ANNIE ARE SIRED BY "CHAMPION HIREDHAND SILVER DUDE"
---
I KNOW THERE ARE MORE PEOPLE AND THEIR DOGS THAT COMPETE IN DIFFERENT VENUES. I JUST DON'T HAVE PICTURES TO POST. SO LET ME KNOW AND SEND ME PICTURES SO I CAN POST.